Gameplay features of factions explained
Martial artists must choose a faction to align themselves with early in their story. We'll be going over some of the core gameplay features that being in a faction provides.






PvP & You


The Cerulean Order and the Crimson Legion are rivals in the world of Blade & Soul, even though they share a common cause. When you first join a faction, you'll be rewarded with a faction costume. Equipping this costume will notify other players—and members of the factions—that you're ready to fight. Putting on a faction costume not only flags you for PvP against members of the opposing faction, but also opens up daily faction quests and faction-specific Windstride ports (provided you've activated them).






World PvP Rewards


Defeating an opposing faction member within a valid level range provides you with temporary PvP currency known as Prestige Points.




If you defeat a player of the opposing faction, you are also able to steal their accumulated Prestige points. But be careful - they can do the same back to you!

Prestige is able to be traded for reputation within your faction, as well as for items and other rewards. The more opposing faction members you defeat, the more Prestige you can collect and trade in, and the greater the reputation and rewards you can obtain!

Prestige is something you build up and spend within a single play session; the moment you're defeated or remove your PvP flag for any reason, you'll lose any Prestige you have that hasn't been spent on reputation or rewards. Your Prestige will also be reset by changing channels, taking a Windstride, leaving the zone or game, or unequipping your faction costume.

You start at Faction Rank 10, and through acquiring reputation, will progress all the way up to Rank 1. The maximum amount of Prestige Points you can collect increases as your Faction Rank increases. You can swap factions at any point, but if you do you'll lose all reputation you've gained, and you'll have to start over from Faction Rank 10 if you ever decide to swap back.



World PvP Locations


The Warring Factions spend their time battling over resources, and you'll be able to see where they're fighting by looking for the faction symbols present on the map: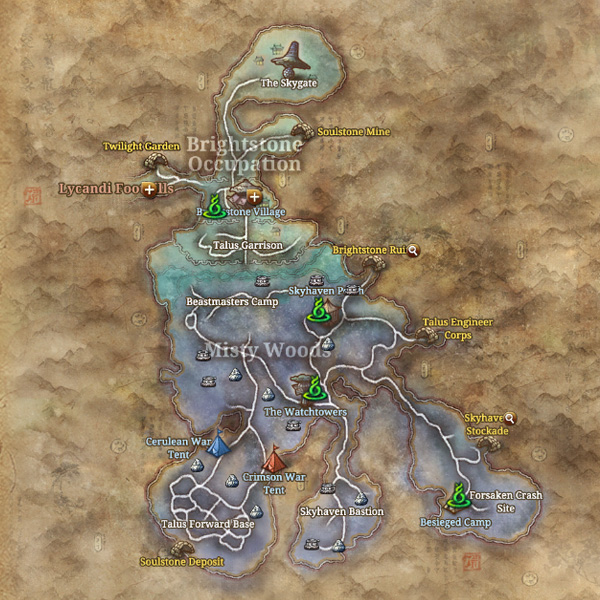 If PvP isn't your thing, but you still want to earn some of these rewards, heading to a camp—PvP hubs where you'll find PvP quests and vendors— will let you find non-player faction members to battle, which will also reward Prestige Points when defeated.

We hope you enjoyed this quick preview of faction costumes and PvP rewards!



Source
NCSOFT reveals the Warring Factions & a new Factions page in their latest article.
Who shall you choose: the Cerulean Order or the Crimson Legion?



Only the greatest Martial Artists are invited to join the Warring Factions. Early in Blade & Soul, you will be asked to choose where you stand, who you will fight for, and which cause is just.




All through August, we'll be helping you make that decision. Our just-launched Factions page provides you a core message from the venerated Leaders Hansu and Sansu, and we've given each one an exclusive week on our Twitter feed so that they can recruit followers to their banner.




Also throughout the month, we'll be revealing more info on how your Faction alignment means more than just believing in their core values. Make sure to show your true colors when watching us on our Livestream on August 18th at 10AM PDT.

Be sure to keep an eye out for our next community contest scheduled at the end of the month!
NCSOFT's reveals the Costume Design winners in their latest article
Costume Design Contest Winners revealed!

The winners for the Blade & Soul Costume Design contest have been selected! See the winning designs below.
We've counted up all of your votes over on our Contest Page and the winners of our Costume Design contest have been selected!

The following outfits will be designed and created in Blade & Soul and will be available for all players when we launch the game in Winter.



Esyllincott





Congratulations to Esyllincott from North America, who said this about the entry:



Esyllincott said:

Since this costume is designed for NA and EU, I wanted to give a Western/ European mix, with a touch of BnS Asian culture. This design resulted in a mix of cowboy themes and European high fashion/armor. The name "Regium Corvus", which is Latin for "Royal Crows" was based off the colors being Royal Blue and Black. But its themed roots in its design was a flock of crows/ravens.



EdoSky


Congratulations to EdoSky from Europe, who said this about the entry:



EdoSky said:

At first the idea was to design a costume with chainmail to add a little bit of western element to the design, but later realized it wouldn't fit the Blade & Soul theme, so the decision was to make a winter coat as design base and move on from there. If you are going to conquer the West during winter, you better put on some clothes.



Congratulations to the winners and a huge thank you to everybody who submitted an entry.

All of the Finalists and the winners will be contacted via Email regarding their prizes and everyone will get to enjoy these amazing costumes once the game launches.

Don't forget to keep up to date with Blade & Soul by following our Twitter, Liking us on Facebook or subscribing to our YouTube.